Thank You Very Much!
Thank you for a fantastic experience at our first Buyers' University. We appreciated the opportunity to meet with so many retail leaders under one roof. We are also grateful to all who took advantage of our Show Special.

Presentation Video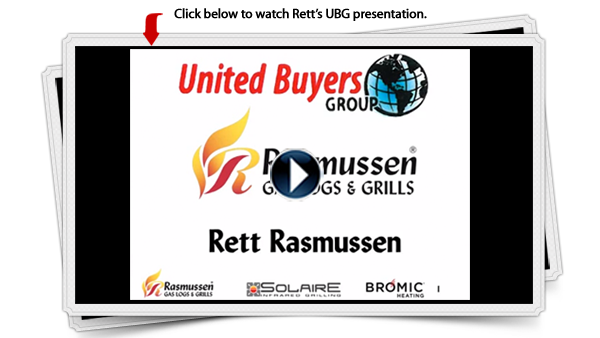 Rett Rasmussen's presentation before the entire assembly is available at http://www.youtube.com/watch?v=-xpVJoNmG3E . In it, Rett talks about how Rasmussen enhances your ability to increase your customers' LTV (LifeTime Value) by providing more tools for your selling toolbox. While you may not have been a dealer of gas logs, gas grills or patio heaters, with Rasmussen as a UBG vendor, you are now. You now have more reasons to say "yes" to the consumer who enters your store, more ways to bring them back to your store, more ways of making more money and growing your business.
Personalized Gas Log Sizing
On the UBG tablet, the "Price List" link displays just our Gas Logs price list. To view our price lists for Solaire Infrared Grills and Bromic Radiant Patio Heaters, as well as policies, forms, brochure PDFs and helpful resources, click on the last link (see photo below), or by visit https://rasmussenironworks.com/ubgdownloads/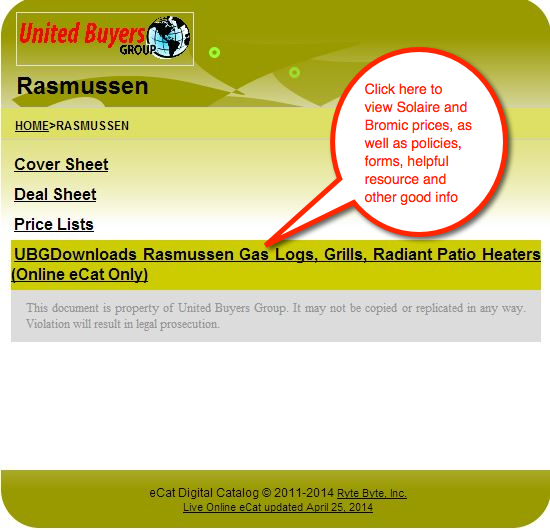 Gas Log Price List Training
The video at http://youtu.be/4w_Cw8OIgKw walks you through our price list. While our line is very extensive and might seem daunting, every set consists of logs, burner and lighting control. This video helps familiarize you with the items in the price list to make a complete set.
Have you 'Liked'; us on Facebook yet?