Do you have a recurring income stream?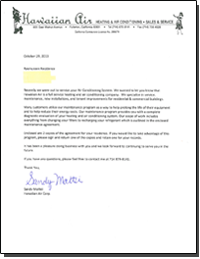 Last week I received this Service Contract "Invitation" in the mail from an HVAC company who recently worked on my home air conditioner. Rather than chancing that I might forget to call them for repeat services, they provided me with a program that keeps them top-of-mind for my home A/C and heating needs. They also created a recurring income stream for themselves.
What can you do in your business to create such a recurring income stream? If you sell and install gas logs, how about a "Pre-Season Inspection and Tune-up"? Inspect the chimney and fireplace for obvious issues. Light the pilot, blow out the ODS pilot air intake holes. Change the batteries and synchronize the remote transmitter. Loosen up the pan filler and place some new embers. Make sure the logs are stacked correctly. Light off the set. Might this be worth $90 to $125 or so in extra revenue per year per gas log customer?
How about a "Pre-Light-off Grilling Inspection and Tune-up" for grills? Inspect, clean and replace parts as needed (charging for them, of course). Offer to demonstrate an accessory. Perhaps they need a new cover, a new grill, or maybe some other product that you offer.
What is your customer's "Lifetime Value"? Rather than "one and done," set up programs that will help you be in front of your customer when they have a new need, and earn recurring income in the meantime.