Solaire "Tailgating Grill" Special.
EXTENDED until November 15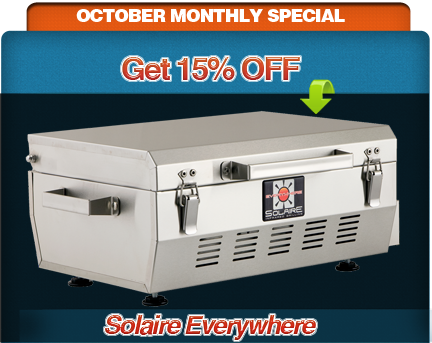 ---
Order three or more Solaire Everywhere Portable Infrared Grills and receive a 15% discount from the normal discounted price AND Free Shipping.
Order accessories for the portable (adapter hose, tripod, side shelf kit, SS stand, Natural Gas or Low Pressure Conversion kits) at the same time as the grills to also receive 15% discount and free shipping on them.
The Deal:
Must order by 5 PM PDT November 15, 2013.
Must order three (3) or more SOL-EV17A Solaire Everywhere Portable Infrared Grills. Can also order accessories for use with this portable grill.
Your price will be the below stated MSRP less your normal trade discount, less an additional 15%. Please contact us if you wish for a specific price quote.
Free Shipping (complete order shipped to one location at one time by carrier of Rasmussen's choosing).
Payment terms are your standard terms with Rasmussen.
Place order by clicking the button below to download the form. Then fax (562-698-3510) or email the completed form to orders@rasmussen.biz
Subject to availability.
Item #
Description
MSRP
SOL-EV17A

Solaire Everywhere! Portable Infrared Grill, 24 ga. 304 SS

$299
SOL-PST17A

Stand, Stainless Steel, for EV17A, IR17B and IR17M Portable Infrared Grills

$129
SOL-SHLV17A
Side and Front Shelves for use with SOL-PST17A and SOL-SATRI
$39
SOL-SATRI
Tripod with SS Mount Plate
$157
SOL-170BR

SS plate to adapt to various Magma rail, deck and fishing pole mounts: T10-380, T10-385, T10-390, T10-185, T10-340, T10-321, T10-326, T10-322, T10-327, T10-355, T10-375, T10-360, T10-365.

$105
SOL-SAHOSE6
6 Foot Tank Adaptor Hose for 20# LP Tank
$32
SOL-SANGC
Nat. Gas Conversion. Includes orificed valve, regulator, 12ft. hose with quick disconnect
$105
SOL-SALPC
Low Pressure LP conversion kit. Includes orificed valve, 12ft. hose with quick disconnect
$95