Happy Thanksgiving!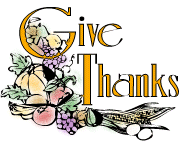 Rasmussen hopes that Thanksgiving finds you surrounded by family and friends, with an ample table of seasonal delights, and filled with a spirit of gratitude. While there is much to be wary of in the future, we have much to be thankful for from the past and in the present, and it is fitting to give thanks.
We at Rasmussen are grateful to live in a country that is vigilant in the security of its citizens, both here and abroad. We are thankful for those in the various services who are on watch away from their families so that we may share Thanksgiving with ours. We have solemn gratitude for those who have paid the ultimate sacrifice in the service of our country, and for their families who must live with their loss.
We are thankful for our families, our co-workers, our customers, our reps, and our suppliers. We are thankful for the ability to create products that give people comfort and bring happiness to their lives, and we are thankful for the opportunity to serve those who buy, sell and use our products.
We are thankful to live in a country where we can worship as we choose, and give thanks to our God from whom all blessings flow.
God Bless you all, our country and have a Happy Thanksgiving.